Can Entrepreneurship be Learned?
Can entrepreneurship be taught?  I certainly hope so. I have an MBA in entrepreneurship. But there are lots of people who will tell you it cannot, who think the traits of an entrepreneur are innate.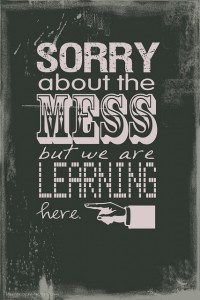 And certainly come of them are– risk taking, creativity, constant learning, grit, perseverance. But may of the skills of great entrepreneurs can certainly be improved by studying and through experiential learning models. Skills like asking good customer development questions, market analysis, listening, managing growth, hiring, selling, presentation skills, presence, executive decision making with limited facts- these can all be improved and be taught.
I have met with a number of entrepreneurial faculty and entrepreneurship centers at leading universities, at Boston University, Babson College, Worcester Polytechnic, Dartmouth College, University of Texas. It is really interesting to see different approaches. One approach is to try to "infuse" entrepreneurship throughout a University Campus. The idea is to weave entrepreneurial skills and lectures into courses on Biology or Engineering. I can see the merit of whetting these student appetite, I don't think this is nearly sufficient. It's like asking a Major League Baseball pitcher to hit. Even though they are around the game, they don't have the repetitions to be very good at it. Of course engineers and biologists can become great entrepreneurs, but I think it will take more than a few lectures.
Probably the most important skill I see entrepreneurs learning over time is "product market fit." In other words, does the market want the thing you are building, whether it's a product or a service or a technical invention. Too often, we see new entrepreneurs assuming that the market will want it, or building the new technology and then finding a market for it. Rarely does a new inventor or first time entrepreneur "just know." There was only one Steve Jobs, who rejected the idea of market research.
Studying a market need, learning and structuring a customer development learning process, listening to your prospect and interpreting their feedback- that is a true skill. I think it is is skill that can be taught, one that can be practiced, and one that can be improved. I think the rate of success of new ventures would be greatly improved if entrepreneurs would learn and practice.
What do you think?
[/column_DD] [/section_DD]